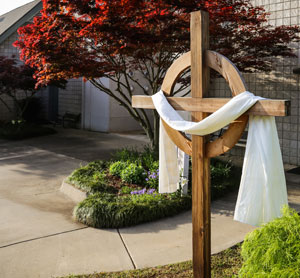 Palm Sunday, March 29 at 10:30 Worship
Meet outside the Sanctuary before worship if you are able to join in the Palm Sunday processional.
Maundy Thursday, April 2 at 7:30 pm
We will enter into the darkness of the betrayal of Jesus as he turns to face a cross. We will celebrate the Lord's Supper and be served God's grace. Before the Supper, Jesus took a towel, knelt down, and washed his disciples' feet. You may choose to come forward for hand and foot washing as part of this profoundly moving act of love and service.
Easter Sunrise Service, Sunday April 5 at 6:30 am
In the Amphitheater of the Old Stone Church outdoor cemetery on the corner of Hwy. 76 and Old Stone Church Road. It tends to be chilly, so please remember to dress warmly. Come hear the good news, "He is Risen!" Death and the grave have been overcome.
Easter Sunday Worship Services, April 5
Celebration of the Lord's Supper. Join us for worship. We will have two identical services with the Chancel Choir in the Sanctuary at 8:30 and 10:30 am.