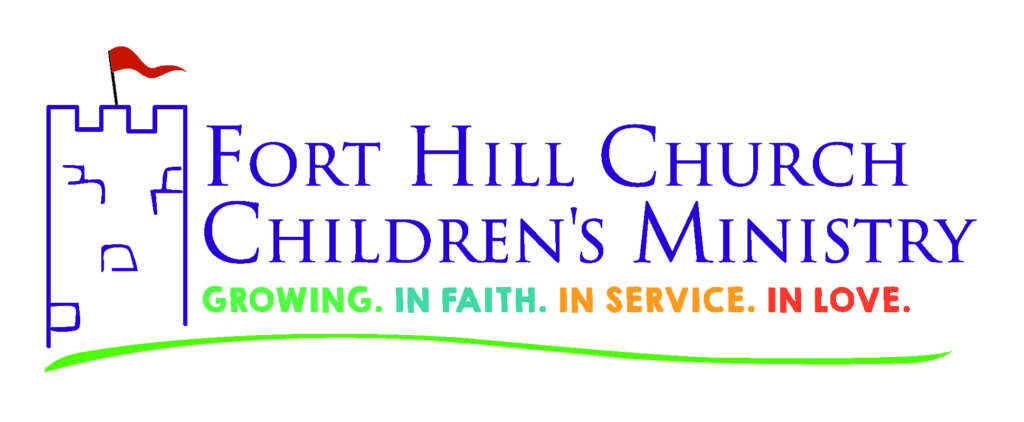 The Children's Ministry of Fort Hill Presbyterian Church is for children to have fun learning about Jesus, exploring their faith in God, creating lasting friendships, and making the world better.
Fort Hill Church Children's Ministry values…
Having Faith: We worship and follow Jesus because he loves us.
Being a Safe Place: We create a space where we are protected.
Being Caring: We listen to each other to help.
Being a Loving Church Family: We are baptized into God's family and loved by everyone at church "all the time!"
Showing Respect: We will make choices so everybody feels loved.
Being Honest: We try to be ourselves in all we do!
Being Welcoming: We greet everyone as a friend.
Being Joyful: We are happy because God loves us "all the time!"
Sundays @ The Fort
Nursery Care
Fort Hill Church Children's Ministry values worship for all ages, including parents and their young children. All children newborn through three years old are welcome to stay in Room E117 during our Sunday morning Worship time. This room holds a little something for each of these ages. Parents should provide diaper bags with supplies and snacks as needed. The nursery is staffed by two nursery workers, who are all trained in Child Protection Policy procedures. Due to space limitations, we ask that only children 3 years old and younger come to the nursery.
For more information about nursery or additional childcare options contact theChildren's Ministry Team.
Wee Kirk
Fort Hill Church Children's Ministry values meaningful worship for our wee ones as well. Children 4 years old through first grade remain in the Sanctuary during Sunday morning Worship time through The Story for All Children. Following this time, children ages 4 through first grade are led to the Nest in the Education wing below the Sanctuary for Wee Kirk ("Little Church"). In Wee Kirk, children take part in their own worship time, complete with stories and songs to help cultivate a joy of singing and familiarity with Bible stories and principle. Wee Kirk is supervised by rotating church volunteers.
Wonders of Worship (WOW)
Fort Hill Children's Ministry knows that young disciples need to learn about and understand worship in order for it to be truly meaningful. We offer a worship education class for 2nd through 5th graders in Room E209 immediately following The Story for All Children. In WOW, children learn about the parts of worship, the sacraments, the Bible, and much more.
Wednesdays @ The Fort
On Wednesday Nights, children PreK through 5th grade are invited to come for dinner, fellowship, and choir, and Bible study.
| | |
| --- | --- |
| 5:30 pm | Dinner & Fellowship in Tartan Hall |
| 6:10-6:30 pm | 5 years – 2nd Grade Choir in E209 |
| | 3rd – 5th Grade Bible Centers in the Nest |
| 6:30-6:50 pm | 5 years – 2nd Grade Bible Centers in the Nest |
| | 3rd – 5th Grade Choir in E209 |
| 6:50 pm | Closing in the Nest |
| 7:00 pm | Dismissal |
For more information, email the Children's Ministry Team. You can also check us out on our Facebook page!
Children's Music Ministry
Our youngest disciples are invited to worship God and share their voices with our congregation by singing in the children's choirs: Strong Praises and Singers of Christ. Choirs for grades K-5 are offered on Wednesday evenings from September through April. In choir, children are introduced to various music techniques, learn hymns, anthems, and fun songs. The Sings of Christ also learn ringing techniques with choir chimes.
Choir participants are given opportunities to lead and sing in worship several times during the year, along with the Angel Vespers program at Christmas.
Parents are also asked to be involved as choir parents, assisting in rehearsals and encouraging all children to participate and share their gifts in praising God and leading in worship.
Margaret MacKay, Director of Music, directs these choirs and can be contacted for more information.