A Future with Hope;
Stewardship 2022
Jeremiah 29:11
For surely I know the plans I have for you, says the LORD, plans for your welfare and not for harm, to give you a future with hope.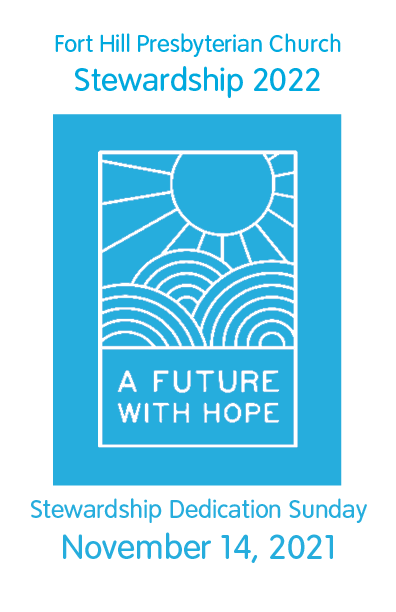 A Message from our Session
Dear Fort Hill Family,
On Sunday, November 14, we will be celebrating Stewardship Dedication Sunday with the theme, "A Future with Hope." Fort Hill Presbyterian Church is here to give our community HOPE. We are a waystation of hope for weary travelers, wayward sinners, and seasoned saints. God came to us in Jesus to help build a bridge between God and us. And we get to share that connection and companionship with God and each other.
Session would like to thank you for all you have done for Fort Hill in the past. Your support has allowed us to advance our mission to Glorify God, Grow Disciples, and Meet Human Needs. As we move toward 2022, we invite you to join us in giving thanks for all the resources — spiritual, theological, physical and financial — that support our mission and allow us to provide a "A Future with Hope."
In the brochure link to the right, you'll find a special prayer written by a faithful disciple and Fort Hill friend. We invite you to pray this prayer as you consider what God has entrusted to your care for the future of Fort Hill Presbyterian Church. And we ask you to bring your pledge card to in-person service on November 14 or use the link below to pledge online. Together, we'll fill out the cards; and together we'll celebrate God's beautiful gift of "A Future with Hope."
In Christ,
The Fort Hill Church Session
Pledge Online
Giving Guide