Romans 12:1-2a
Therefore, since we are surrounded by so great a cloud of witnesses, let us also lay aside every weight and the sin that clings so closely, and let us run with perseverance the race that is set before us, looking to Jesus the pioneer and perfecter of our faith…
A Message from the Pastor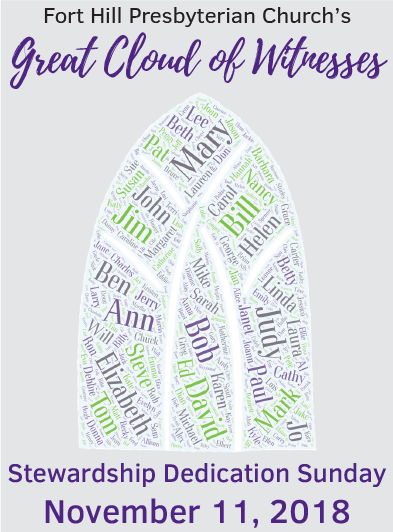 Dear Fort Hill Family,
This year's stewardship ministry calls us to recall those whose faithful witness impacts our lives for the better. These personal stories have encouraged me in my faith and helped me know more about you. I hope you, too, have grown in your faith and witness as we follow Jesus together.
Fort Hill is a generous group of witnesses that both cares for one another and helps our community find the way that leads to life. So as you consider who is a faithful witness for you, consider how you support the mission of the church of Jesus Christ in this place. Please commit to the 2019 General Fund that enables our ministries. Giving generously is a joyful sacrifice and gift to those who follow Christ. You can:
Prayerfully and thoughtfully fill out the Pledge Card.
Come with your pledge card for our Dedication Sunday on November 11. If you are unable to be present, you may pledge online (see link below) or mail your pledge card to Lori Houck, Office Administrator, or place your pledge card in the offering plate on another Sunday. Additional pledge cards can be found in the church office, the FHOG office, and the Narthex.
May our gifts glorify God, grow disciples, and meet human needs.
Together in Faith,
Laura Conrad
Pastor
Pledge Online