Romans 12:1
Reflection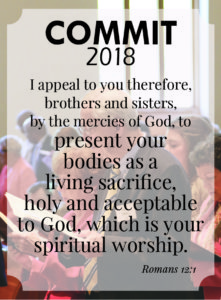 "Present!" Perhaps you remember the teacher taking roll in school. Taking attendance is one of the first items of business. Now my kids check themselves in at a computer. But there is something satisfying about saying aloud, "Present" or "Here!" at a roll call. We are publicly saying I am ready and willing.
In faith, we bring our whole selves, mind, body, and spirit before God from the moment we wake up alive and kicking until we fall asleep each day. Being present means living before God with all that we are. We take the gift that God gives us, life, and are ready to share and serve God's world with our whole being. Being fully alive gives God glory. God can use more "fully alive" folks who present themselves.
For a season we will explore how to present ourselves to God through Fort Hill Faith Practices. All of life is a gift, and God's loving sacrifice for us calls us to daily, weekly acts that glorify God.
You are one of God's gifts. You are a present, a gift, to this faith community at Fort Hill. By being you, sharing your God-given talents, gifts, and self with us, we are becoming more fully the alive people that God so desires.
One way we publicly declare our love for God and dedicate ourselves as living sacrifices is by making a financial commitment for the coming year. Consider your God-given giftedness, pray, discern, and give witness through your financial commitment and pledge this year. Through the regular giving of our money, we practice being Christ-like. Christ gave us the ultimate sacrifice for us. We, created in God's image, are called to do the same.
Be Present! To God, in community and worship at Fort Hill, and to those God places in your path to serve.
Together in Faith,
Laura Conrad
Pastor